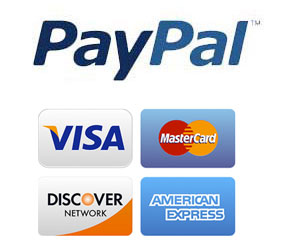 Your Account
When you create an account with us, we store your e-mail address and shipping information. We do not store credit card information. Your order history is always available when you log in by going to your 'Account' page, which also provides tracking information (if available). You may request to have your account de-activated by contacting us, however this is generally unnecessary.

Shopping Experience
Shopping at Needak UK is easy and fun. As you browse our product pages you can add anything you want to your cart with the click of a button and it immediately gets stored for your review when you're ready to checkout. If you change your mind, you can easily remove or change the quantities of items right on your cart page. The site is full of information on the various products we offer, and also has a blog & news section, user reviews, and much more. Take your time as you browse the site to experience all it has to offer.

Checkout Process
Once you have decided on your items and have added them to your cart, you will then proceed to the checkout process. This is done by clicking on the 'Cart' link at the top of the page and then the 'Check Out' button at the bottom of the 'My Cart' page. Next, we will ask you to log in or create an account by providing us your e-mail address and a password. If you don't already have a Needak UK account you will be prompted to create one so that only you have access to your order history. Once done, you will proceed to the shipping information page.

Your shipping information and e-mail address are necessary to fulfill sending you your order and notifying you of the progress. This also makes it easier for you to place future orders with us as your shipping information and e-mail address will then be stored with us.

Finally, you will choose a payment method and finalize your order, proceeding to the payment method of your choice. Once completed, unless there are any problems with your order, you will soon receive an e-mail from us informing you that your order has been received and sent for shipping.

Payment Methods
The vast majority of online shoppers use credit cards, and for increased security opt to pay using large companies that act as payment processors between customers and merchants. The advantage of using payment processors instead of giving your credit card information to every site you shop from reduces the risk of your sensitive information being distributed or stored by 3rd parties.

It is for this reason, as well as other added benefits, that we provide our customers the largest and most secure payment processor in the world: PayPal. It uses credit cards, online checks, does not require you to create an account and even permits interest free payment plans for select customers.

We also provide direct credit card payments secured via SSL which do not require interaction with any third party sites. Using this method, your credit card information is used only for that single purchase and is not saved by our systems.

Safety and Security
Unlike normal web requests, all exchanges of information between your computer and that of any of our secured pages and payment processors is encrypted using advanced 128bit/256bit Secure Socket Layer (SSL) technology. This means any information you receive as well as send is first encrypted on the source end, sent to the receiver, and then decrypted. This is why SSL pages are sometimes slower than normal web requests as the encryption process is intensive.

You can differentiate between an SSL request and a normal web request by checking whether the website you are at starts with an 'https://' or an 'http://', the latter being a normal request and the first being secured. As 128bit/256bit SSL security has never been compromised in the history of online transactions, it is highly secure.

All the pages on Needak UK that collect or display your sensitive information are secured using SSL encryption.